Concealed Thread Cable Rail Systems
Hayn's cable rail systems are designed to eliminate the complexities involved in installation without compromising on quality. Our lines include a full catalog of Adjuster Systems, Fork Systems, Turnbuckle Systems, Turnbuckle Assemblies, and Termination Accessories.
Hayn concealed thread cable rail systems were designed with a modern and minimalist look in mind. Elimination of any exposed or visible threads was the key attribute to the design, while focusing on the reduction of physical size. The systems allow for ease of installation with supporting Wall Eye Options for stair angle compensation and Wood Inserts for anchoring into wood posts. For extended length runs, these systems include a concealed thread intermediate turnbuckle system to ensure adequate tensioning of the cable system can be achieved.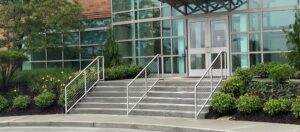 This simple and economical cable tensioning system provides for a "clean" look by concealing the threads for adjustment internally.  The typical application is for cable runs less than 40 feet in wire sizes ranging from 1/8″ to 1/4″.  All hardware is made from high quality 316 grade stainless steel for superior corrosion resistance.
View our Catalog Below